Ownership Group
Pat Gillick
Managing Partner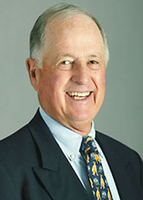 A native of Chico, Pat Gillick retired from playing and began his front-office career in 1963, when he became the assistant farm director with the Houston Astros. He would eventually work his way up to the position of Director of Scouting before moving to the New York Yankees system in 1974, as a Coordinator of Player Development. In 1976, he moved, this time to the expansion Toronto Blue Jays, becoming their Vice President of Player Personnel, and in 1977, their Vice President of Baseball Operations and General Manager. In 1984, he was named Executive Vice President of Baseball Operations.
As Toronto's general manager, Gillick won five division titles (1985, 1989, 1991, 1992 and 1993) and led the club to their first World Series championships in 1992 and 1993. Shortly after Gillick resigned in 1994, the Blue Jays went into decline, not finishing higher than third place until 2006, and failing to make the playoffs until 2015.
In 1995, Gillick was named the general manager of the Baltimore Orioles. He guided the Orioles to the playoffs in 1996 and 1997
Gillick then became the general manager of the Seattle Mariners (2000-2003). The Mariners made back-to-back playoff appearances for the only time in franchise history in 2000 and 2001, and the 2001 team, with a 116–46 record, tied the 1906 Chicago Cubs for the all-time Major League Baseball record for most wins in a single season.
On November 2, 2005, Gillick was named the Philadelphia Phillies' general manager. Gillick retired from his position as general manager after leading the Phillies to a World Series championship in 2008 but has remained with the organization as a senior advisor to the Phillies president David Montgomery.
He won a national championship in college while pitching for the University of Southern California (USC). Gillick was inducted into the Canadian Baseball Hall of Fame in 1997, the National Baseball Hall of Fame on July 24, 2011, and the Ontario Sports Hall of Fame in 2013.