MEDIA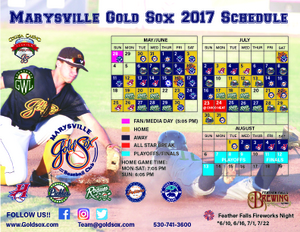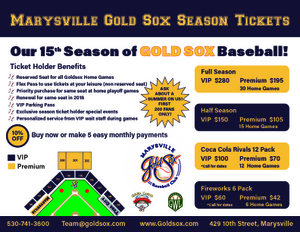 Marysville Ca., – The Marysville Gold Sox 61-game schedule – complete with start times – is now official as the club enters its 15th Season and 2nd in the Great West League.
The 61-game slate includes 31 games at Colusa Casino Stadium and is highlighted by Five Feather Falls Brewery Fireworks Nights, Faith night, and HomeRun4Health by Rideout Hospital.
The season will commence with a Fan Fest Rival Game held at Colusa Casino Stadium on May 28th at 5:05PM. The event is free for everyone and opportunity to see the Gold Sox and Yuba City take batting practice and compete in a shortened inter-squad exhibition followed by an autograph meet-and-greet session down on the field.
Gold Sox will play a balanced Great West League schedule, facing Chico, Lincoln, Medford, Portland, and Rival-Yuba City 12 times each. The Gold Sox regular season will kick off with a home matchup against new league member Lincoln Potters on May 30th and will conduct Opening Day at Colusa Casino Stadium on Saturday June 3rd 7:05PM against the Potters
Games that are played Monday-Saturday will begin at 7:05PM and Sunday Evening games will start at 6:05PM. "This is going to a wonderful summer to remember with 61 days of baseball and an opportunity to bring two great cities together with one common love. The Game of Baseball", Said VP/GM Michael Mink.
---
ABOUT THE GREAT WEST LEAGUE
The Great West League is one of the premier summer collegiate wood bat leagues in North America, providing a professional, minor league baseball atmosphere for top college players seeking professional baseball careers, while providing affordable family entertainment and enriching the quality of life in its member communities.
Gold Sox advertising, season tickets, mini-plans, bbq and group outings for the 2017 season at Colusa Casino Stadium and Opening Day Tickets are on sale now. For questions about the 2017 season, please contact us at (530) 741-3600, by email at Team@goldsox.com, or in person by stopping by the Gold Sox Office located at 429 10th Street, between 8:30 a.m. and 2:30 p.m. on Monday through Friday. For more information about Marysville Gold Sox Baseball, log on to www.goldsox.com.