MEDIA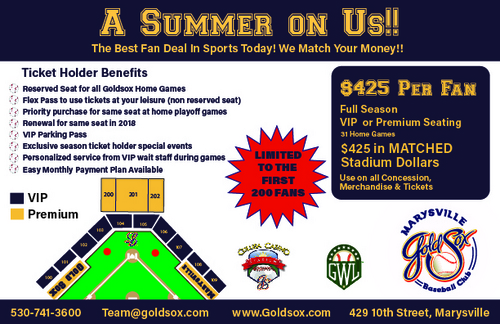 Sometimes in Baseball things are not always what they seem. The diving catch in center that somehow centerfielder magically makes. The Homerun that is robbed from its majestic flight to the grandstands. The shortstop mystical backhand deep in hole to amazingly throw out the runner at first base.
Now in Marysville we are giving your money back after you buy this special season ticket to enjoy a summer of baseball with the boys at Colusa Casino Stadium. There must be a catch, right? The only catch is the one on the field and occasionally a great grab in the Grandstand. That's right the team is going to give you your money back to buy anything we sell at the park. "This program will let people enjoy the game in a fashion never seen in sports today. When I presented this to the board in December they really thought I had gone crazy. After, they really liked the idea and authorized 200 for each team to sell on a first come basis", said VP Michael Mink.
Okay we are in extra innings now, so let me break it down to you. Buy one 30 game VIP season ticket ($425.00) to either team for a permanent reserved seat or a new flex pass which will let you split the season up and watch both teams. Then we are going to turn around and give you your ($425.00) back in matching stadium dollars. You can then buy anything we sell at the park including more tickets to take family or friends to see your hometown team.
It's the best deal in sports today! Spend ($425.00) and get ($425.00) in matching stadium dollars to spend at the games and we will even reserve your parking all season. Buy "A Summer On Us" in January and make 5 monthly payments. Time to turn the clock back and enjoy a few more wonderful days of summer on us.
The Gold Sox and the Bears are looking for host families for our 2017 players. If you have any interest, please email team@goldsox.com or team@yubacitybears.com. The host families are an important part of our team and vital to our success on the field of play.
---
ABOUT THE GREAT WEST LEAGUE The Great West League is one of the premier summer collegiate wood bat leagues in North America, providing a professional, minor league baseball atmosphere for top college players seeking professional baseball careers, while providing affordable family entertainment and enriching the quality of life in its member communities.
Gold Sox and Bears advertising, season tickets, mini-plans, bbq and group outings for the 2017 season at Colusa Casino Stadium and Opening Day Tickets are on sale now. For questions about the 2017 season, please contact us at (530) 741-3600, by email at team@goldsox.com or team@yubacitybears.com , or in person by stopping by the Yuba-Sutter Community Baseball Office located at 429 10th Street, between 8:30 a.m. and 3:00 p.m. on Monday through Friday. For more information about Gold Sox and Bears Baseball, log on to www.goldsox.com or www.yubacitybears.com