Front Office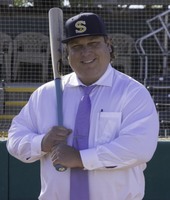 Michael Mink
Vice President/General Manager
Phone:
530-844-7459
E-mail:
Michael, a Tampa, Florida native, is serving his third year as Vice President/General Manager for the Yuba-Sutter Gold Sox. He received college baseball scholarships for both Hillsborough Community College and Division 1 University of Alabama at Birmingham, and played two years of baseball at UAB before graduating with a Bachelor's of Science Degree in both Pre-Law Studies and History in 1988. Michael also obtained his PHD in social injustice in 2015. After graduating, Michael played two years of professional sports as an outfielder in the Pittsburgh Pirates Free Agent Camp in Bradenton, Florida, and as an outside linebacker overseas in Germany and Italy.
Michael has spent the course of his career in baseball, fastpitch softball, football, and the business world. Following his two years in professional sports, he went on to play for the Clearwater Bombers Fastpitch team while working as an investigator for the U.S. Treasury and a Credit Manager. In 1993, Mike went on to play, coach and serve as the General Manager for the Tampa Bay Smoker Fastpitch team over the course of five years. Where he won two World Titles (1996, 1998) on National Championship (1997) and the honor of First Tem All-American (1996) . During this time with the Tampa Bay Smokers he also worked as the Vice President of Sales for MRG/USA Laser.
After his time with Tampa Bay Smokers, he played for the Decatur Pride Fast Pitch Softball winning a National Championship in 1998 and finished his career with the New York Spirit. Michael began his career as an entrepreneur as the Owner and CEO of MX Productions and City Tail Marketing for the next fifteen years. Michael worked with the NHL Tampa Bay Lightning as a Marketing Consultant for 4 seasons and in his last season with the team won its first ever Stanley Cup. Michael also during this time worked with Tampa Stadium Task force and the NFL Tampa Bay Buccaneers in the funding of what now is Raymond James Stadium.
In 2005, Michael took a leap to the football industry. From 2005 to 2015 moved over 80 players up to the NFL, CFL, and AFL. He served as a founder, owner, advisor, liaison, and head coach for multiple Indoor Arena Football teams, taking him all over the country and world. He worked for the Gulf Coast Raiders (Outdoor), Montgomery Maulers, Carolina Speed, Baltimore Mariners, Utah Saints, Ogden Knights, Yakima Valley Warriors, Manaus Cavaliers (Outdoors) in Brazil, Bloomington Edge and Florida Marine Raiders. He served as the founder, co-owner, and COO for the American Indoor Football Association from 2005 to 2010. Michael head coached his beloved Raider's to an X Bowl National Championship in 2014 in front of 8000 fans in St. Louis. He also served as founder/commissioner of the X League from 2012 to 2015.
Michael is a proud father of two beautiful daughters Sierra Mink, 15, and Arista Mink, 11. Michael will be publishing his book in the spring of 2018 which entails the struggle of hardship with his salvation through sports.