Meet Mr. G

About Mr. G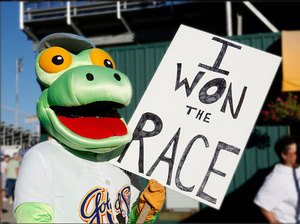 Mr. G was born in a baseball park somewhere in New Zealand in 1994 to G-Mom and G-Pop. While growing up in New Zealand, Mr. G excelled at baseball and received straight A's all the way through high school. After graduating as valedictorian from high school, Mr. G went to Oahu State University in Hawaii on a baseball and academic scholarship. In 2001 Mr. G graduated from college with a Bachelor's degree in Mascotology and landed his first job with the Yuba-Sutter Gold Sox baseball team as the office secretary. When the Gold Sox season is over Mr. G likes to take a vacation. His favorite vacation spot is Hawaii, where he visits every off-season.
When he comes back to Marysville, Mr. G keeps busy with his very active personal life. You might see him jogging around Ellis Lake or shopping down Plumas Street. He even attends many local community events such as Relay for Life, Yuba-Sutter Fairgrounds Easter Egg Hunt, Run Drugs Out of Town, or Little League games.
---
Appearances by Mr. G
If you would like to request Mr. G for your community event please send us an email.

Remember that we receive a high volume of requests and Mr. G cannot make it out to every event. In order to make sure he can attend your event, please send your request four weeks in advance. Include the name of the event, time Mr. G would arrive and leave, approximate attendance, and a contact phone number.